We're bringing the heat! Hampton Toyota sells some of the most reliable vehicles in the world but we also make it a point to stock the hottest Toyota models with unique options and trending trim levels. We have cars, trucks and SUVs that get noticed at red lights and bring excitement to your everyday commute. Settling for a mediocre vehicle is SO last decade! Upgrade with Hampton Toyota and add some drama to your driveway. 
Top Trending Now:  
2023 Toyota Crown
Meet the all-new 2023 Toyota Crown. This innovative lift-up sedan is a cut above the familiar. Its elevated cabin, flowing silhouette and sculpted body lines create a fresh look that's entirely unique for its class. And this premium machine continues to deliver confidence with AWD capability and the electrified power of an available Hybrid MAX powertrain. An image of innovation you can touch, feel and drive-Toyota Crown is arriving winter 2022. As soon as it does, drivers in Lafayette, Louisiana are going to sit up and take notice! This Toyota Crown is going to be about the size of the current Toyota Avalon, but taller. You're going to enjoy easier ingress and egress because of the ride height, and you're going to get the best of Toyota luxury, quality, and reliability. Plus you'll love the Crown's fuel efficiency, and the options for AWD drivetrain. As soon as you see it, you'll know it's different. You'll realize this is a step up that you're going to want to take. It will be stunning! 
                                                        _______________________________________
What's New in the 2023 Toyota Sequoia?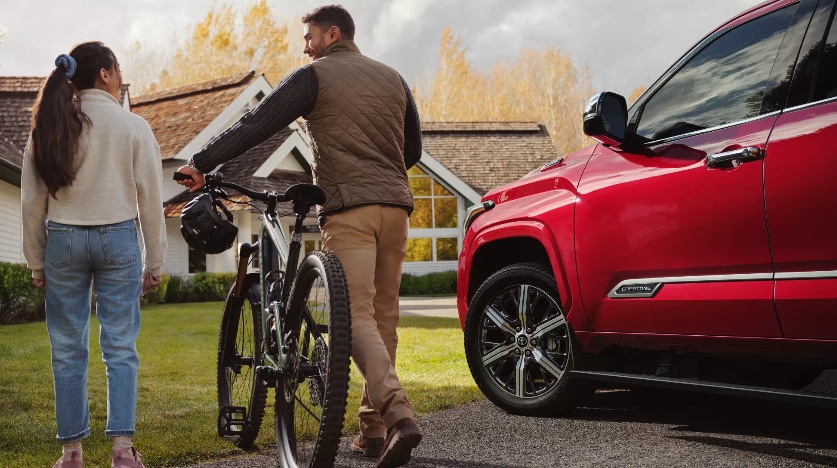 The 2023 Toyota Sequoia is a three-row SUV and the first in a new generation of full-size models from Toyota. Durable, comfortable, and dependable, the Sequoia is packed with premium options and capable on the road. You and your family will cruise from Opelousas to Abbeville in quite comfort, luxury, and safety. It is built on the history of being one of the safest Toyota SUVs ever made. This all-new version of the Sequoia SUV also offers a standard hybrid powertrain. Previews of the new 2023 Sequoia have yielded comments like "Wow!" and "This is the best-looking Toyota ever!" It will be built on the same platform as the new Toyota Tundra and the Land Cruiser so you know the ride will be stable, comfortable, and instill confidence and have great towing and off-road capabilities with properly equipped models. This new Sequoia will be powerful too, with an eye for efficiency, as it is powered with Toyota's very responsive twin-turbo V-6. Simply put, if you want the best-looking, most-reliable, and state-of-the-art SUV in Lafayette then you are going to want to test-drive the 2023 Toyota Sequoia as soon as it arrives!
Not sure what you want? Let our Toyota experts find you the PERFECT
 vehicle for you and help you get the BEST deal for your budget.
Call 337-984-5010.