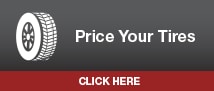 Tires can impact the quality of your vehicle's handling, brake performance, and fuel economy.  It's important to keep an eye on your tire tread to make sure they stay in their best shape year-round. If you notice that your tires need to be replaced, come by Hampton Toyota in Lafayette, LA. We have a comprehensive inventory of high-quality genuine Toyota OEM parts. We can even find the exact replacements for the original tires your vehicle came with!

Our highly qualified and knowledgeable staff can answer your parts inquiries and have your tires professionally mounted, balanced, and inflated to the proper levels by factory-trained and Certified Toyota technicians.

To view our competitive tire prices, click on the "Price Your Tires" button above.  Provide us your vehicle information and the tires that you are interested in and we will respond promptly.  Come visit us here in Lafayette at Hampton Toyota's Tire Center today and let our Toyota service professionals help you keep your vehicle at its best. Visit us at 6191 Johnston Street in Lafayette, LA, or give us a call at (337) 984-5010. You can also schedule your next service appointment online anytime.