Find the perfect factory recommended tires for your Toyota, and schedule to have them installed
Toyota Tires in Lafayette, Louisiana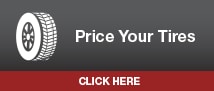 The tires on your car are one of the most important safety features. Not many people think about it that way, but it's true. It's the tires that keep you going straight at highway speeds. It's the tires that handle the bumps, the potholes, and the road hazards. And if you need to suddenly swerve a 4,000 pound car around a road obstacle, you want to make sure your tires can handle it! Think about it, at 70 miles per hour, a typical tire on a 16 inch rim can be rotating 14 times a second; 840 times a minute, and handling 280 G's of centrifugal force! Having the right tire for your car is essential to your safety! So when it comes to picking out tires, going with the cheapest option may not be the safest option. You want to make sure you buy the right tires for your car.
Hampton Toyota has the right tires for your Toyota! OEM replacement, recommended tires for every Toyota, at very competitive prices, can be found at Hampton Toyota. We even offer the same road hazard warranties, nitrogen fill, and compliment alignment checks on every Toyota. And if you are worried about paying more, don't be. Hampton Toyota regularly checks and compares our prices to make sure we are competitive with other tire retailers in Lafayette, and in our opinion our customer waiting room us much more comfortable. We even offer complimentary cookies, popcorn, coffee, bottled water, WiFi, and "quiet rooms" for when you need to get some work done.
Everyone knows tires have a definite impact on ride quality and of course handling, brake performance, and fuel economy. Yet, many people don't give their tires the attention they should. It's very simple to do; just walk around your car every few days, and even take a quick glance as you walk up to it in the parking lot. It's important to keep an eye on your tire tread, wear patterns, and inflation pressure to make sure they stay in their best shape year-round. If you notice that your tires need to be replaced, then call or visit us at Hampton Toyota in Lafayette, LA. We have a huge inventory of tires for your vehicle, and probably have the tires you need in stock. We always carry a large inventory of the highest quality genuine Toyota OEM parts to get your service needs taken care of quickly. We can even find the exact replacements for the original tires your vehicle came with!
Our highly qualified and knowledgeable and trained staff can answer your parts inquiries and have your tires professionally mounted, balanced, and inflated to the proper levels by factory-trained and Certified Toyota technicians.

Do you want to be sure our tire prices are competitive? Just ask! Click on the "Price Your Tires" button above to send us a request. Provide us your vehicle information and the tires that you are interested in and we will respond as quickly as possible. Or you an always come visit us here in Lafayette at Hampton Toyota's Express Maintenance and Tire Center today and let our Toyota service professionals help you keep your vehicle at its best. Visit us at 6191 Johnston Street in Lafayette, LA, or give us a call at (877) 242-7060. You can also schedule your next service appointment online anytime.

Hours
Monday

7:00 AM to 7:00 PM

Tuesday

7:00 AM to 7:00 PM

Wednesday

7:00 AM to 7:00 PM

Thursday

7:00 AM to 7:00 PM

Friday

7:00 AM to 7:00 PM

Saturday

7:00 AM to 3:00 PM

Sunday

Closed